Winterparadise
Dream yourself a winter's dream:

Blue skies over mountain slopes covered deep in snow, wisps of smoke rising up from the chimney of a rustic ski lodge. The jingling of bells on a horse-drawn sleigh, soothing relaxation in hot spring waters. This dream has a name: Gastein !
Winter sports enthusiasts of every ilk, families with children, casual winter hikers and athletic ice climbers all find their personal piece of paradise here in the Gastein Valley. Whether you prefer skiing, boarding or carving, in the four ski areas of Gastein, with 200 kilometres of slopes boasting snow conditions you can always rely on, you are certain to find the hill of your dreams! As a cross-country skier or snowshoer you will undoubtedly treasure the quiet and solitude of our natural landscapes.
Awaiting families with children are some truly exceptional opportunities:
from superbly led ski courses - even for our littlest "dudes", to children-friendly ski lodges and fun-filled sledding expeditions in the evening! Gastein's ski schools will quickly get beginners and pros out on the slopes. Rental centres feature the very latest and greatest skis and equipment, guaranteeing your success from the very outset!
Seventeen hot springs feed the spas of Gastein where, after a day filled with sporting activity and new adventures, you can stretch out, relax and languish in the soothing setting. Enhance your health, your fitness and your general wellbeing in these powerfully therapeutic waters!
A broad selection of special events and gathering spots, from convivial mountain inns to the glamorous casino, entice you out of your snug winter's nest. Afterwards, you will find yourself dreaming yet again! All warm and cosy, your thoughts will wander to the new, fantastic day of skiing ahead in the Gastein Valley!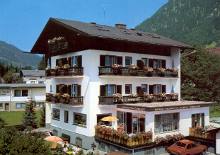 Our Apartementhouse Lafenthaler is located amidst the impressive scenery of the Gastein Mountain Range and offering you a cosy and comfortable holidayhome.
In a few minutes walking distance you reach the ALPEN Therme (big spa and indoor pool center), the conference center, the tourist office and all the nice shops in the pedestrian area of Bad Hofgastein. The close location to the valleystation of the Schlo?alm mountain railway and the woods is a perfect starting point for all your undertakings.
We wish you a lot of joy and fun with all the winter sport activities, walking or hiking, golf, tennis, cycling and discovering the scenic attractions in the Gasteinvalley and surrounding areas.
Hopping to welcome you
---